Last week we shared the unpleasant news that Fox had canned cool, cool, cool cop comedy Brooklyn Nine-Nine. Now comes the good news.
Rival American network NBC – who obviously have a whole bunch of taste – have stepped in and saved the show, for at least one more season of 13 episodes. They weren't the show's only suitors, either. Are we stoked? You bet we're stoked!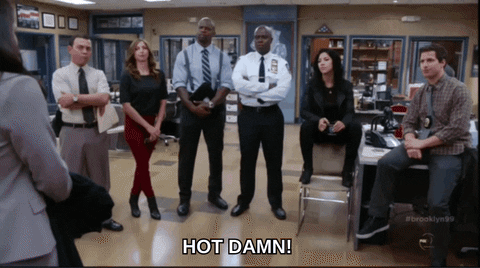 What an emotional roller coaster!
The news was shared by Jake (aka Andy Samberg, Lonely Island member) on Twitter…
So happy to announce:
NBC IS PICKING UP BROOKLYN 99 for SEASON 6!!!

— The Lonely Island (@thelonelyisland) May 12, 2018
Thank you to everyone for the crazy outpouring of support. It means the world to us. It wouldn't have happened without you.

— The Lonely Island (@thelonelyisland) May 12, 2018
He wasn't the only cast member excited to keep their job…
SQUAD YOU DID IT #BROOKLYN99 WILL BE ON NBC FOR OUR 6th SEASON!

— Stephanie Beatriz (@iamstephbeatz) May 12, 2018
#Brooklyn99 IS COMING BACK FOR SEASON 6 YOU GUYS ON NBC!!!!! You did this!! You got loud and you were heard and you saved our show!! Thank you!! Thank you to NBC!! NINE NINE!!!!! pic.twitter.com/cTycfF4FoR

— Melissa Fumero (@melissafumero) May 12, 2018
It's NINE o'clock and the NINE NINE is now on NBC. We are so grateful for our fans. THANK YOU. You made this happen. And we're excited about this amazing new chapter for Brooklyn Nine-Nine. ❤️???

— JoeLoTruglio (@JoeLoTruglio) May 12, 2018
TERRY LOVES @NBC https://t.co/x6R6r8xZaI

— terrycrews (@terrycrews) May 12, 2018