This week iconic English DJ and BB1 broadcaster Pete Tong releases Pete Tong Ibiza Classics. To shed some light onto the cultural era in which this legend of acid house is embedded, (one of) STACK's resident Pom(s) gives a little insight via her own experiences.
Before we get into it, here's a short clip that'll give you an idea of how long Pete Tong has been broadcasting; here he is reading out his show's website address for the first time on air.
A few things you might not know about acid house and the explosion of the UK dance scene 
Back in the day of the yellow smiley face (the symbol of acid house), music really was the only thing that mattered. Oh, and lasers… in fact, the lighting crew were almost as important as the DJs on a line-up. Blurry-eyed kids stumbled out of clubs at 7am with their heads buzzing from the tunes and their legs wobbling from 10 hours of dancing, picking up armfuls of flyers to take home and stick on their bedroom walls and ceilings, just in time for mum's Sunday roast (blurgh).
Flyers; above image via roachmaterial.
Nowadays us ravers are a tricky bunch to pick, but we're everywhere: we're chefs, nurses, computer nerds, plumbers, aunties, painters, teachers, and, well… pretty much anyone. Listening to Pete Tong Ibiza Classics (which I reviewed here) has prompted me to list a few things you might not know about acid house, and the enormous UK dance scene in the late '80s/early '90s.
Acid house is a sub-genre of house music. The Warehouse nightclub (est. in 1977) in Chicago is considered to be the birthplace of house music under its first musical director: the late, great Frankie Knuckles, AKA "The Godfather of House."
Frankie Knuckles
The first acid house track was released in 1986 in Chicago; Sleezy D, I've Lost Control.
Although not everyone allied with raving subscribed to the drug scene associated with it, the connection between acid house music and the drug ecstasy is thought to have been a deciding factor in the dramatic fall of football hooliganism crime in the UK during the late '80s.
Ravers; above image via Pinterest.
Before mobile phones and social media, pirate radio stations would announce a secret meeting spot and time for the rave (usually a quiet, roadside cafe). A car would arrive and lead an excited convoy of hundreds to the undisclosed party destination. These magical mystery affairs were usually held in a derelict warehouse or field, and finding them was often referred to as "catching the pigeon."
The association between the rave scene and the energy drink Lucozade came about when English producer and DJ Adamski released his single N-R-G; the record cover featured a mocked-up Lucozade bottle with a replacement logo bearing the DJ's name. A year later in 1990, he released the more commercial track Killer with vocals by Seal.
Rave fashion was extremely practical for those wanting to dance for hours and hours… and hours. Many of the accessories provided practical benefit for anyone partaking in recreational drug taking (coincidence or not):
Comfortable runners/training shoes
Baggy T-shirts
Baggy pants or leggings
Bright, fluoro colours
Little to no make up – essential to avoid any sweat-induced running mascara
A floppy hat – placing a strategic shadow over twisted or tired eyes
Chemical suits and dust masks – introduced by DJ duo Altern 8 in the early '90s
Child's dummy/pacifier – handy to chew on
A whistle – only to be used when requested: "Whistle posse, make some noise!"
Ravers; above image via The Independent.
There's no doubt about the fact the late' 80s/early '90s ushered in an awakening for music; a youth movement and a cultural revolution was born as acid house exploded out of our walkmans and record players. These days if you're unsure if a colleague or neighbour used to be raver, just play them an uplifting piano riff with some heavy bass, and watch them raise their hands in the air… or simply ask: "What's yer name? Where yer from? What yer on?"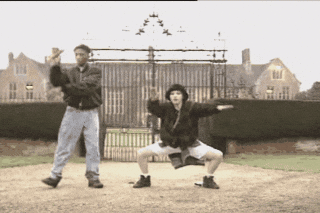 Pete Tong Ibiza Classics is out December 1 via Universal.